Features of eBooks
Page amounts and physical amounts are not linear
Version-ups after purchase
Price can be changed (In Japan, most paper book prices can not be changed)
Publish to world wide without airplanes and trucks
Technology books in Japan
Many translated books from English to Japanese
Short lifecycle (circumstances are changing rapidly)
Volumes are too little to publish on paper
Publishers do not like risks
Many japanese are not confident for reading English books.
More translations by practitioners, Less costs, With English
Re-publish English book with Japanese (partial) translations

Original author get same effect of selling original edition
Japanese translator get revenue of additional value.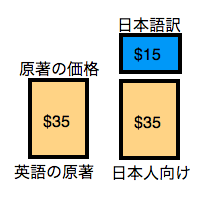 Without perfect translation is ok.
Translator can choose witch part he hope to translate.

At first publish, low translation coverage, low price.
Translators put new translation, kick version-up, move to higher price
Early adapters can get new version without additional costs
If the book sold much in early stage, encourage translators for rest of translation.

Feedbacks encourage translators.
It's ok for stopping translations, anytime.
Ohter people hope to continue translation, can join translation community.